Project Overview
moveBuddha's website was grappling with outdated accessibility and UX standards, resulting in a less-than-optimal user experience. The absence of clear UX guidelines contributed to user confusion and hindered effective navigation, ultimately affecting lead conversion rates adversely. Leveraging my expertise in UX design, I spearheaded the transformation of their website to align with contemporary UX standards. This overhaul ensured a seamless, user-friendly interface that improved overall user experience, fostering more efficient interactions and increasing the likelihood of successful lead conversions.
Team
1 UX designer

1 developer

1 copywriter

2 stakeholders
My Role
UX/UI design

User research

Design process

UX/Design leadership
Key Performance Indicators (KPIs)
ADA Compliance
After an initial audit of the website in its entirety, the need for ADA (American's with Disabilities Act) compliance in its overall design and function became clear. By addressing the lack of adequate color contrast, typography sizing issues, and lack of consistent system messaging I was able to get a baseline level of ADA compliance built into the brand that allowed for all users to be able to utilize the site regardless of accessibility barriers.

Navigation
The original navigation on moveBuddha's website was facing a few major problems:
The header and footer were easily missed

They didn't provide the look of a trustworthy brand

There was no sitemap

There wasn't a solid information architecture
Through researching the usual user journeys, discussing page hierarchy with the team, and putting together suggestions for a solid information architecture, I was able to implement a header and footer that would improve the user experience and act as a trust-builder for the brand.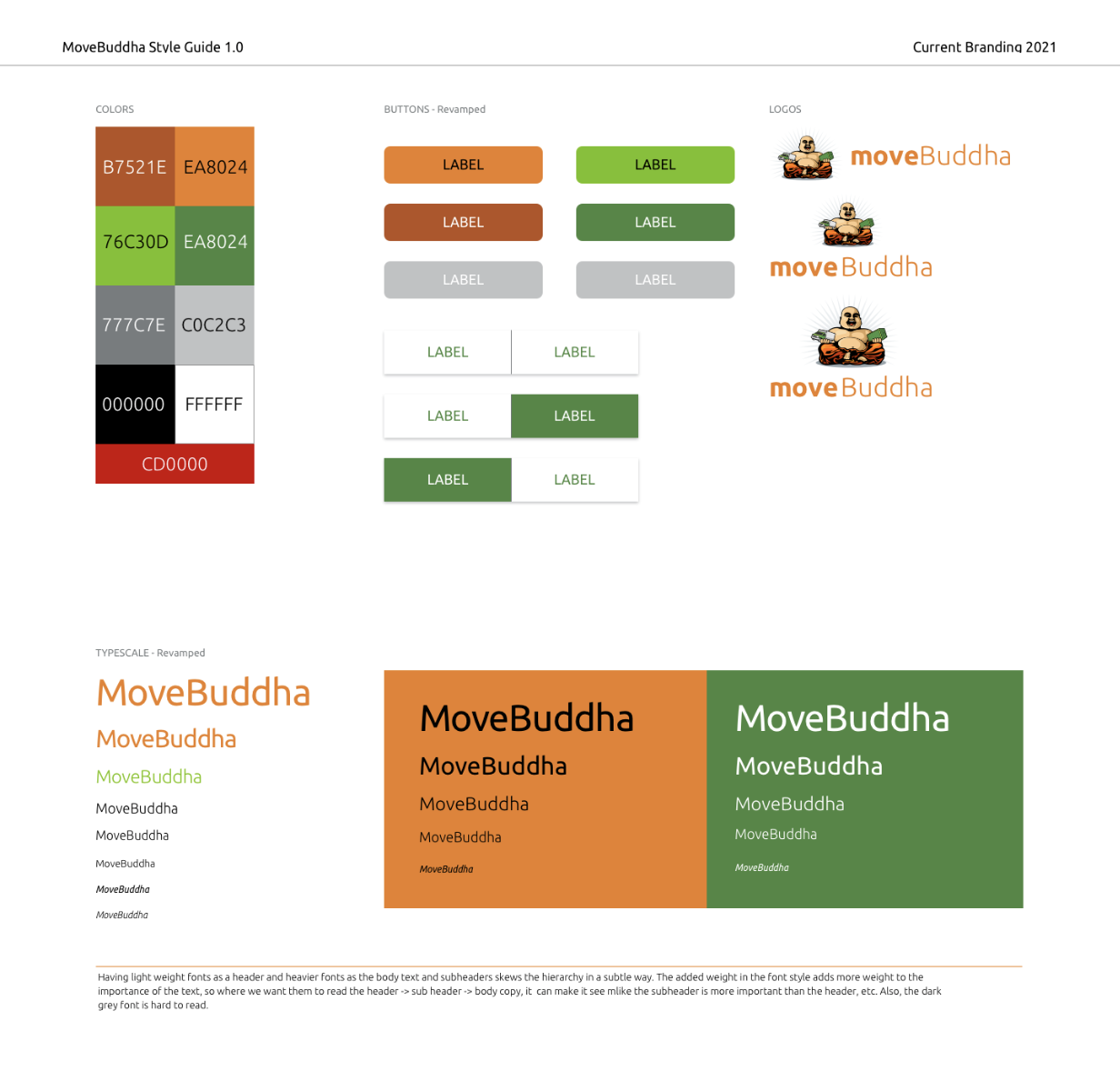 Style Guide
Putting together the new adjustments to colors, typography, navigation and system messages into a comprehensive style guide made it easier to implement symbols and components in Sketch and manage brand consistency across the company as a whole. Each team got a copy of the style guide, and it was frequently reviewed as new elements were added.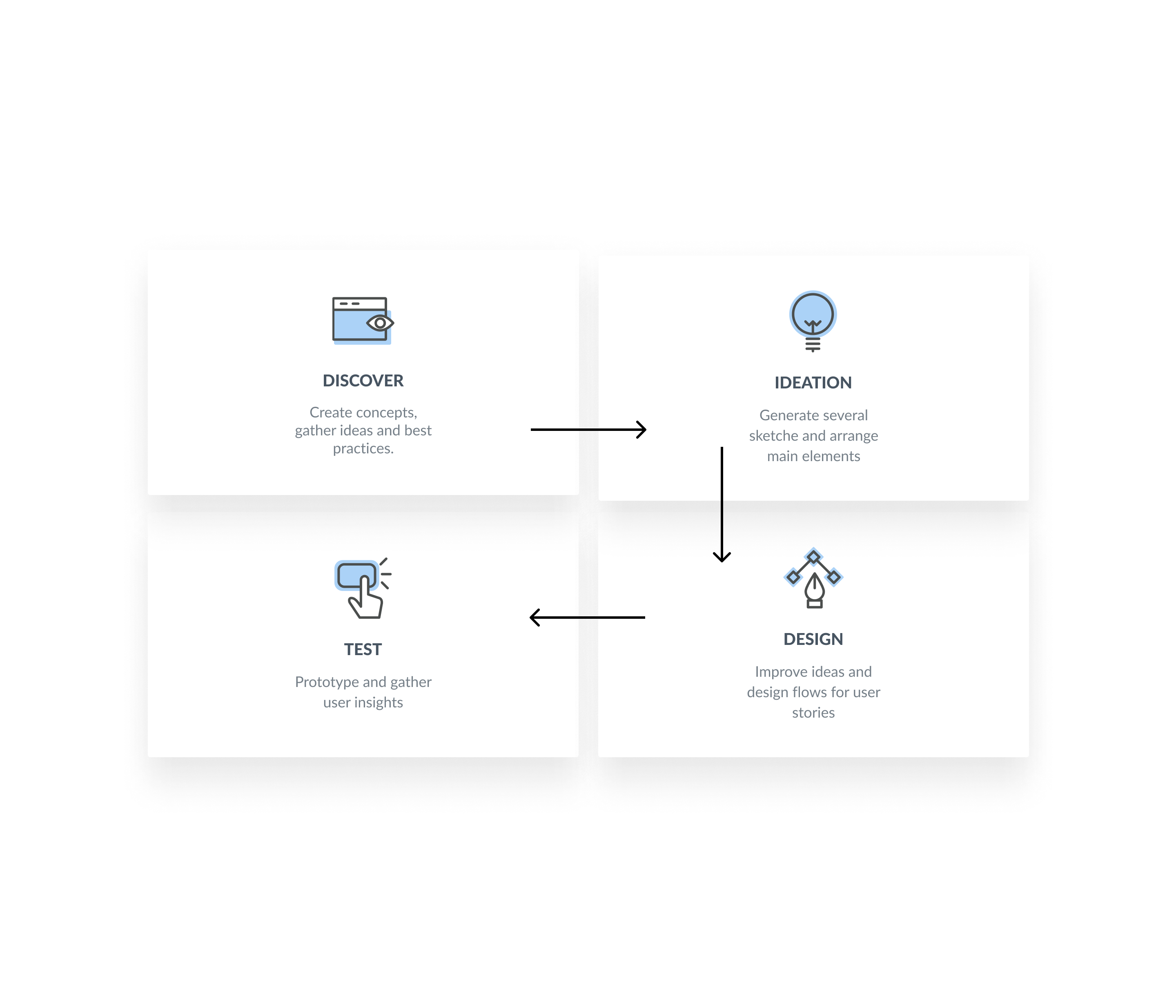 Processes
The main need that moveBuddha has was a clear process for optimization, design, and development. Spearheading this effort I put together process documents that would go over the standard design process of a new element, a testing process, optimization process and how to adjust each of these processes in the event of a tight timeline. With these processes everyone was able to be on the same page as to what these projects would look like per sprint, and allowed the project manager to keep track of each stage closely which allowed us to find and address any project blockages as soon as they came up.

User Research
I got the company set up with hotjar and mixpanel for A/B testing, user surveys, recordings, and heat maps as the first start in creating a comprehensive system of user research. Then, I created personas, and walked the team through a heuristic analysis that opened up the door for more user experience optimization heavy lifting.

Optimizing Components
moveBuddha had heavily utilized a card-based component system, but there was inconsistency in their design. To enhance the user experience, it was essential to establish clear guidelines for designing and using these components. Additionally, user-centric system messages, such as tooltips, were implemented to facilitate content comprehension and navigation.